Who is Cape Connect?
Cape Connect Internet provides an array of connectivity services.
Starting as a small wireless internet service provider, based in Somerset West and servicing the Helderberg community, Cape Connect now has a national fibre footprint, while still offering wireless services to the residents of Cape Town.
In partnership with major players in the local and international industry, we provide reliable broadband connections to home and corporate users.
About Us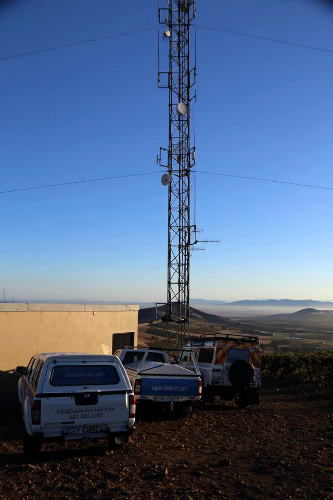 We have a high speed wireless network covering greater Cape Town, with a nationwide fibre footprint.
See our wireless cover map here, and fibre cover here.
We have a team of experienced, dedicated staff that not only has many years of experience in wireless technology, but is also experienced in the intricacies of fibre optic LANs and WANs.
Our team of support engineers are always available to handle any query you may have, while our security team are able to advise on and implement security strategies for single computers, a local network of computers or a multinational network.
We have our own ASN, our own IP addresses, separate local and international links and peer with many local, regional and international networks.
We are also fully IPv6 enabled. More information is available here. Each client router issues both IPv4 and IPv6 addresses. Any installation of a device on the client side of our router that negates the use of IPv6 on our network is subject to an increased subscription fee.
Our network is fully managed end-to-end, up to the router we supply to our clients. Client routers are provided as pre-configured, locked down, and remotely monitored by our support and technical staff.
Licences & Legal
Click here for our ECS Licence
Click here for our ECNS Licence
Click here for our Proatia Manual
Click here for our Peering Policy
We subscribe to the ISPA Code of Conduct
We are WAPA members
We are a signatory to the Unashamedly Ethical code of conduct.
We are iCode Compliant
Our Code of Conduct may be found here
We are a Level 4 BEE contributor. Our BBEE certificate is available on request