Why Choose Cape Connect?
We are well aware of the fact that some of our competitors spread malicious stories about us to try and secure business at our expense.
We would therefore like to take this opportunity to set the record straight.
There are only four real Wireless ISPs providing service to the Helderberg basin.
They are:
Amobia / Frogfoot / Vox
Cape Connect
Comtel Communications and
Sonic Wireless
All the other Wireless ISPs offering service in this area, whether based in the Helderberg basin or not, are merely resellers of Neotel, SEACOM, MWEB, Internet Solutions or some other real ISP.
What is a real ISP?
A real ISP has it's own Autonomous System Number and it's own IP addresses.
It has peering arrangements with other real ISPs.
Real ISPs purchase IP transit from multiple network providers and don't just resell other suppliers' products, for example Neotel's Neobroadband or Telkom's ADSL.
How do I test an ISPs authenticity?
First, go to http://www.speedtest.net
The IP address will be shown on screen, along with the name of the ISP. If the ISP name is not the same as your ISP, your service provider is nothing more than a reseller.
Then, run a traceroute to several different servers.
Tracert news.bbc.co.uk
to see how your international traffic routes.
Tracert 196.25.1.1
to see whether your ISP purchases local traffic from the same source as their international IP transit.
Tracert www.uct.ac.za
to see whether your ISP is peering with NAPAfrica Cape Town.
Tracert www.easyweb.co.za
to see whether your ISP is peering with NAPAfrica Johannesburg
Tracert stats.cinx.net.za
to see whether your ISP is peering with CINX / Cape Town Internet Exchange.
Tracert www.google.co.za
to see whether your ISP has direct peering relationships with major players.
Tracert www.mango.zw
to see whether your ISP is peering regionally.
Cape Connect is without a doubt a real ISP
As you can see, at Cape Connect, we have our own ASN, our own IP addresses, separate local and international links and peer with many local, regional and international networks.
In short, we are a serious ISP. So much so, that we were recently listed as the 9241 largest network in the world. That may sound small, but think about that for a minute. Of all the millions of networks in the world, we are the 9241 biggest.
Feel free to remind the competition's condescending sales person about that the next time they spout forth lies about us, most annoying of which is the one where they claim that we are closing down.
Network Operations Centre and Support
To peer with organisations like Microsoft, it is a requirement that one has a network operations centre that is manned 24 x 7 x 365. Our network is monitored 24 x 7 x 365. Our support staff are available around the clock.
Our NOC not only monitors uptime, it also monitors network latency. Any links that are experiencing ping loss or other forms of latency are immediately flagged for us to attend to.
Our NOC is on the first floor of a building surrounded by an electric fence with two separate alarm systems and two separate reaction teams on standby. It's secure against flood, attack and break-in.
Our network is better managed than any other network in the Helderberg basin.
According to our ICASA Compliance report dated 30 Sept 2014: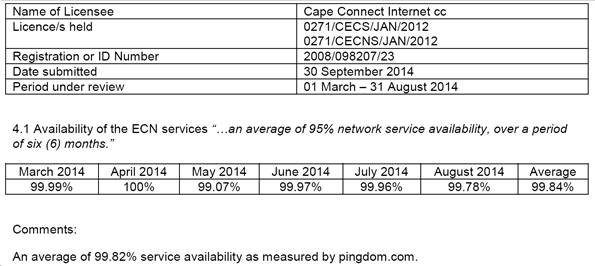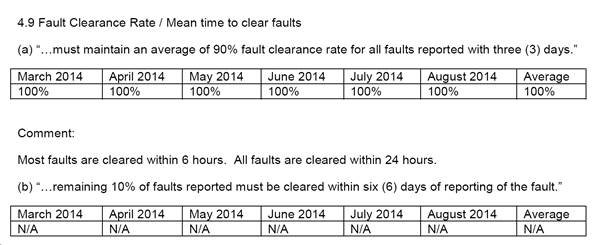 Feel free to remind the competition's condescending sales person about these facts the next time they spout forth lies about our support being terrible.
Fibre ISPs
There are only three ISPs offering fibre to the home (ftth) and fibre to the business (fttb) services in the Helderberg basin. There are
Telkom (with their network of associated resellers)
Amobia / Frogfoot / Vox
Cape Connect
There are only two ISPs offering fibre to the kerb services in the Helderberg basin. They are
Telkom
Cape Connect
Regulatory Requirements
It stands to reason that all "ISPs" have to be licenced. Our licences are published here and here. Here are ICASA links to Individual and Class licencees.
You may want to check to see whether your existing ISP is licenced or not.
In our opinion, apart from ICASA Licences, Tax Clearance and BEEE Certification, the absolute minimum requirement for any internet service provider is to be a member of ISPA.
Our wireless network is not only better managed than our wireless competitors', our business is superior in all aspects.
Our Data Centre and Core Network
Our core functionality is in Teraco, Rondebosch. Teraco is the most connected and resilient data centre environment in Africa. Backed by a 99.999% uptime guarantee, our equipment and environmental parameters are monitored 24 x 7 by specialists versed in all aspects of IT and colocation facility management.
All our main access points have at least 6 hours of battery backup. Crucial sites have generators on site. In addition to this, our electrical contractors are in the process of adding generator sockets and changeover switches to all our high sites.
As a client of Cape Connect, you do not have to worry about your ISP going down after an hour or two of load shedding.
Our Incoming Links
We have four separate fibre optic connections into the Helderberg basin.
The first fibre is to our legacy POP in Victoria Centre, Somerset West. This building is linked by carrier grade wireless to the large tower on Sam Newman building, opposite Checkers, Somerset West. Victoria Centre is also the building that the Neotel POP is located in. Some of our competitors who resell Neotel services have their server rooms located in this building.
Well run networks require very few visits to the server rooms and POPs. Less well run networks require a lot of love and attention to keep them running. One of our competitors even have their offices next to the store room in Victoria Centre that they claim to be a data centre. Why anyone in their right mind would have offices in a building with limited parking, vagrants lurking around the entrance and the constant smell of faeces permeating from the drains beggars belief, but we suppose some companies simply have higher standards than others and respect their staff and clients enough not to expose them to this unless absolutely necessary.
Our second fibre connects our Helderberg POP directly to Teraco. Our clients who connect to Helderberg have one wireless hop before connecting to fibre.
Our third fibre connects Heritage Park in Somerset West directly to Teraco.
Our fourth fibre connects users in Strand directly to Teraco.
Our Network
We run a fully redundant OSPF network. Helderberg, Victoria Centre, Sam Newman, Gordon's Bay and our Strand POPs are all connected via wireless. If one fibre link were to go down, traffic will fall over to the other link. If a user living in Strand or Gordon's Bay were to use a VPN to connect to a network connected to Helderberg (or vice versa) and the link between Stand and Helderberg were to go down for some reason, the traffic will automatically be re-routed via one of the other links.
Our High Sites
Our sites are secure. Over the past 8 years we have developed a state of the art security system that keeps thieves away from our sites. Our sites are monitored offsite by two separate security companies. Our sites have GSM Commanders that not only detect power failures, break-in attempts and tampering, but also switch on floodlights, activate noise bombs and fire pepper gas in the event of sites being breached. We know our security systems work. More often than not, when intruders are detected and the lights go on, the thieves look to our competition for easy pickings, and steal their equipment.
These extensive measures mean that our high sites have some of the highest uptimes in the industry – above 99.8% over a 12 month period. None of our competitors can make this claim.
Network infrastructure and high sites do, however, go down. Usually at the most inopportune times, like 3:00am during a storm. We have a fleet of four wheel drive vehicles to enable us to reach our sites during the worst conditions. Two of these have been customised to allow us to not only reach sites during storms, but also get them up and running as soon as possible. Our team was put to the test during the infamous flood of November 2013 when we discovered that certain residents of a complex had re-routed their gutter downpipes into our cabling ducts, thereby flooding the network and causing fttx equipment to short out. Our combination of n+1 redundancy (sufficient spare parts in our store room), experienced staff and correctly set up vehicles meant the network in question was back on line before the flood waters had subsided.
If you have a critical service that needs more than 99% uptime, we have a proven track record to deliver.
Our Work Methodology
Before we carry out a wireless installation, we survey the site.
We always err on the side of caution. We would rather not have a client, than have an unhappy client. If we survey and say there's no line of site, we will refer you to one of the companies we trust.
On the day of the installation our staff will arrive on site with everything required. We do everything in our power not to stop a job halfway to go and buy cable clips or other consumables. When we leave, your internet will be up and running.
We have proper tools and the correct vehicles to transport them to site. If we need a 10m ladder, we have one. If we need a heavy duty SDS drill (aka Kango) to drill a 25mm hole through a concrete slab, we have one. If we need to haul an antenna, we have numerous utility ropes, pulleys and carabineers.
We only use shielded cable for our wireless installations. Cables running outdoors are UV protected.
We do not extend electrical outlets ourselves. We respect our clients and are not prepared to endanger their property. As such we make use of third party electricians for any electrical work required. All electrical work is issued with a Certificate of Compliance by the electricians.
All brackets are hot dip galvanised.
All poles are 50mm galvanised steel.
Our wireless installations still look good years after we've left.
Our Fibre installations take up to five months from the day an order is signed. We plan these links to the last centimetre.
Fibre and cable is run according to international standards.
All outdoor cable is buried - deep.
All outdoor cable is armoured. Rats struggle to eat through our fibre.
All powered sites are equipped with GSM Commanders to inform us of any catastrophe.
All fibre connections are fused with a fusion machine, not spliced with a cheap and cheerful hand splicer. This is the difference between 10Gb over 50km and 1Gb over 500m. Our clients get what they pay for when we install fibre.
All our fibre customer premises installations use the much more expensive "twist and push" ST connectors. They don't come undone.
All our fibre customer premises installations use custom made heavy duty fibre patch cables. They unfortunately cost about four times more than the cheap stuff from China most of our competitors use, but they don't break.
In short: we're not cowboys.
Our staff
Four of the first ten Mikrotik trainees in South Africa (going back to 2006 / 2007) are either directly employed by Cape Connect, or contracted to Cape Connect. Apart from the normal Mikrotik qualifications, we also have a MikroTik Certified Inter-networking Engineer on staff. There are only a handful of them in South Africa. No other ISP has the Mikrotik depth of knowledge we have.
We have Cisco certified staff.
Our Linux experience goes back to 1994. Collectively, we have in the region of 100 years of Linux server support experience .
We have Microsoft certified staff. Including a Microsoft Certified Trainer. Our staff have skills that vary from NT3.5 to Server 2012.
We employ two Xen specialists and one VMWare specialist.
We also have an electronic engineer on our team.
All staff members who climb higher than 3m from the ground have valid internationally recognised "climbing tickets".
Any staff member who visits a customer site will have at least a Level 1 First Aid qualification. When climbing towers, we usually also have a Level 3 First Aider on site.
Our clients
Apart from hundreds of happy home users and a couple of hundred happy business users…
Our network is stable enough for an outbound call centre to connect through us and call 50,000 outgoing minutes a month.
We are part of the Somerset West partnership against crime. Our network carries critical CCTV traffic for two CIDs. There are also numerous home users on our network who control their alarms and NVRs / DVRs over the internet. We literally hold their lives in our hands.
We host the servers of an email service provider.
We also host the server for one of the largest e-commerce websites in South Africa with hundreds of pages being served up each minute.
Competitor's Claims
Some of our competitors claim that the internet we provide is slow.
Decide for yourself.
Direct Fibre Business Client who hosts websites at his premises:
http://www.speedtest.net/my-result/4233545939
http://speedtest.ookla.com/result/2844055970.png
FTTH Client:
http://www.speedtest.net/my-result/4233551339
http://speedtest.ookla.com/result/2844057090.png
Point to Point Wireless Client:
http://www.speedtest.net/my-result/4233535765
http://speedtest.ookla.com/result/2844055246.png
It's claimed that it takes forever to install a new client.
We have systems of checks and controls in place to ensure that you receive the best service possible. We don't just rock up on site, point an antenna and hope for the best.
We don't chase money. Instead, we chase honest, reliable, clients.
Once we have received your application form, some form of ID, some form of proof of residence and your debit order form, we will process your account and invoice you for the installation.
On receipt of payment, we will install the equipment.
We have found that the majority of clients who are unwilling to sign a debit order, are also the ones who do not pay their subscriptions in a timeous manner. Running a proper ISP entails large overheads. We need our clients to pay us in a timeous manner in order for us to pay our suppliers in a timeous manner.
Some of our competitors claim that we are expensive.
We may well be, but please filter through the smoke and mirrors and decide for yourself whether it's worth saving a couple of Rand to be on an inferior network. You get what you pay for. If you pay somebody who criticises the competition instead of proving their service is better, you will get somebody who will shift the blame each time something goes wrong, instead of manning up and accepting responsibility.
For example, we regularly hear claims of "the fibre was stolen at the airport, which is why we don't have internet". Really? Fibre carriers have redundant rings – just like we do. If one fibre were to go down, traffic will automatically be routed over the backup, which, in the case of Telkom, Neotel and Dark Fibre Africa's links into Somerset West, all run via Stellenbosch.
Some of our competitors deem it necessary to have you pay for three, six or 12 months up front. Alternately, they rent out or subsidise equipment and tie clients into 12 month, 24 month, or longer contracts.
We do not do this. Your equipment is yours to do with what you want. Contracts are month to month. If you don't like our service and we can't make you happy, you can leave any time you want. Needless to say, the opposite is also true. If you are abusive to us, our staff, or our time, we reserve the right to end service with 30 days' notice.
It is sometimes claimed that our support is lacking.
We run a 24 x 7 x 35 NOC.
How many of those who claim our support is lacking offer support at 6:00pm on a Saturday?
In our opinion, our competitors who want money up front for months in advance, or who want users to enter into long contracts are doing so to hold the clients captive, meaning the clients are unable to leave once they realise how bad the service is.
If, after seeing the evidence that we are simply the best wireless and fibre service providers in the Helderberg basin, you were still to choose one of our competitors, don't sign your life away by entering into a long contract you may regret after the second week.